Ada Lovelace commemorative event
To celebrate Ada Lovelace's life, work and legacy, an event was held on Tuesday 8th October 2019 as part of the annual international Ada Lovelace Day celebrations. The evening was split into three sessions, the first of which was an Introduction to Python session facilitated by the HiPy team in which participants were introduced to coding in Python and competed to complete tasks against the clock to win prizes. The challenges in Python were a little different to the usual HiPy sessions, seeing the participants play with Bernoulli Numbers – the output of Ada's first computer program.
The second part of the evening saw a live musical performance of 'Ada sketches', a work by composer Emily Howard who was Artist in Residence in the Department of Mathematical Sciences here at the university in 2015. The musicians were a mixture of students and professionals hailing from the Liverpool Philharmonic Orchestra. Following the performance, Emily, in conversation with Professor Lasse Rempe-Gillen, discussed the work and some other highlights from her career, as well as the influence and legacy of Lovelace herself.
The evening closed with a panel discussion involving academics from the departments of Music and Mathematics here at the university, as well as Emily and other colleagues from PRiSM (RNCM Research Centre for Practice and Research in Science and Music). The session, chaired by Pro Vice-Chancellor Dinah Birch, focused on interdisciplinary collaboration between the sciences and the arts and the benefits and challenges this collaboration presents.
The event was well attended, with a mixed audience participating – students, staff, retired members of the university and external guests were welcomed, and overwhelmingly positive feedback was received.
Some images about the event and interviews to the organisers will be made available soon!
---
Volunteering with The Girls' Network
The Girls' Network is a charity which mission is to inspire and empower girls from the least advantaged communities by connecting them with a mentor and a network of professional female role models.
Our project manager volunteers with this charity as mentor and participates in events promoting women in STEM including a visit to the Institute for girls from a local school. In their last visit the girls enjoyed a tour of the Biochemistry labs, the NMR centre for metabolomics and the bioinformatics office.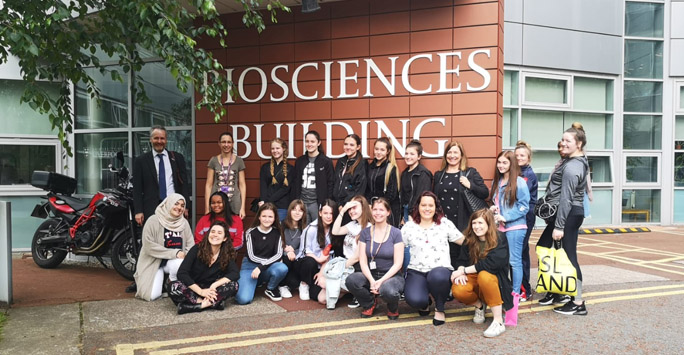 ---
Women in Data Science
In March 2018 we organised a round table event to showcase our profession and highlight the contributions of relevant women to the field. We had a wide range of representation of women at different stages of their career that talked about their ambitions, issues and how exciting is the research they have produced.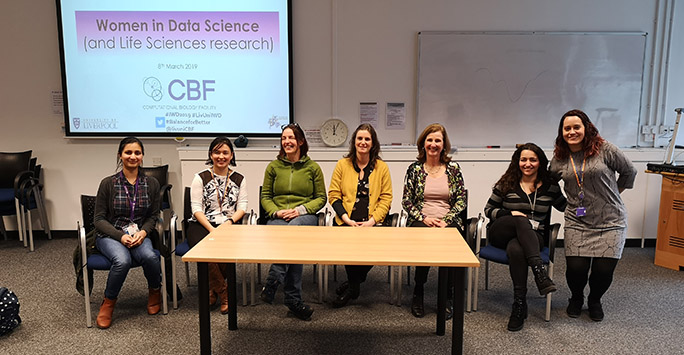 Smithdown Festival 2019
At the Festival we worked with scientists from Alder Hey Experimental Arthritis Treatment Centre for Children (EATC4Children) in this fun-filled family festival. Read more about our activities on the Institute for Integrative Biology blog.
---
Back to: Computational Biology Facility