"I began my career in the middle of a global pandemic"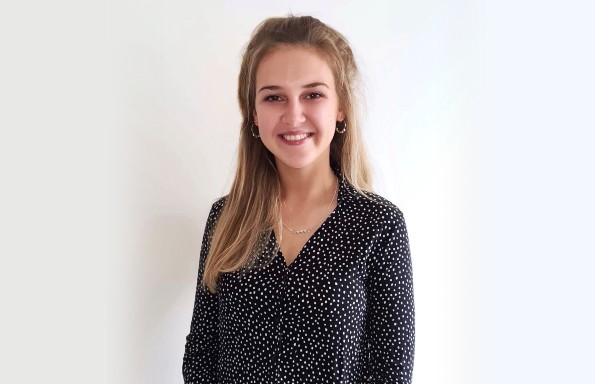 University of Liverpool Communication and Media graduate Ellie Beecham shares her experiences joining Asda's two year Graduate Programme in September 2020.
I began my career as a recent graduate in the middle of a global pandemic. These last few months have been an absolute whirlwind but I'm here to shed some light on the reality of finishing university and entering the world of work. It was always going to be strange, but I can hopefully provide some top tips for students from experiencing this transition in lockdown.
I was offered my role at Asda through a work experience week I did in my second year. At the time, I was Vice President of Enactus Liverpool and as Asda was a sponsor of Enactus, students in the Enactus societies around the country were offered to join them for a week. I travelled to Leeds and spent time learning about the business, from traders and category planners to suppliers and merchandisers. Little did I know, the week was treated as an extended interview process, handpicking students for the 2020 Graduate cohort. I didn't find the role through the usual process and it's revealed to me that these roles can be found through plenty of alternative routes. Make use of your contacts in university and listen out for opportunities, it's one of the only times in your life you will be surrounded by so many academics and career support systems!
After graduating last summer, I started at Asda on their Commercial Graduate Scheme in September and it's been a busy six months. Luckily, I managed to get into the office for a graduate 'Welcome Week' where I met the 16 other grads in a jam-packed onboarding week. This was great because I was brand new to the city, so I had some friends now! During this week, we had a tour of the office and had talks from seniors from around the business. Less than a fortnight later, Leeds was placed under tighter restrictions so it was back to WFH as much as we could.
After being in lockdown since March, the company already had some measures in place to support colleagues working from home. Everyone was used to the Zoom ways of working and had said, 'can you hear me?' more times than I'd been to Concert Square! They'd put in extra team meetings to keep in touch at home and 'fun huddles' on Friday afternoons to let loose before the weekend, so we continued with these.
Working life was always daunting to me; at university, I was in my little student bubble, away from everything else in the world, a mini dimension filled with 'almost adults' before real life kicks in. I imagined working life to be the end of my life, no more socialising in the week, early bedtimes, and stressful days. Although, since beginning at Asda and even starting my professional life in a pandemic, I haven't experienced any of the above. It's been challenging but working hasn't meant I've missed out on being with my team and catching up with friends whenever I can.
As a Category Planning Assistant in the Core Chilled department, it's my job to bring the Chilled categories to life through executing media in stores and online, signing off media for the press and working with the buying teams to nominate products for media. The team have given me a stretch project of managing several categories, so I now look after Cooked Meats, Pies, Tapas, Salads and Dips. In doing so, I meet with suppliers, plan events around new and great value products, try new ranges (my fridge is always full!) and have a hand in the design of new packaging. It's a fast-paced, exciting role that requires a great deal of organisation, but I've relished in my newfound responsibility and having a purpose every day.
I've enjoyed having deadlines to meet and feeling like I have a real impact on what Asda customers see. It's not all work, no play – I've made new friends at work and we've kept up on 'bottomless brunch' Zooms and socially distanced walks. I can't wait to make more memories in the city this Summer! I've got into a healthy routine too; working life will get you up early so you can make the most of the day. You usually get an hour for lunch, so I keep up with my exercise, go for a walk and even do some baking. When I'm in the office, I'm able to pop out for lunch with a friend and enjoy catching up with colleagues in the breakout areas. I've met so many new, interesting connections and it's great to feel like I've found my place in the business.
Also, working hours are flexible and something you can always speak to your manager about. When places begin to start opening, I know I can log off a little earlier on a Friday and enjoy the beginning of my weekend. A lot of companies go by the practice that if you've worked late a few times in the week, you can gain the time back later.
By the time you begin your career, the restrictions may have all been lifted (fingers crossed) and you can enjoy the next stage of your professional life to the full extent. Working life has been a great next step for me; I mastered my subject at university, and I will always look back with fond memories of my time in Liverpool, but all good things must come to an end. There's always support for you at a new company and your new friends and colleagues have all experienced this transition too.
Enjoy your time as a student and embrace the working world whenever it comes your way. With a degree from the University of Liverpool, the world's your oyster!