How news becomes false news: new ZiF research group on the effects of digital media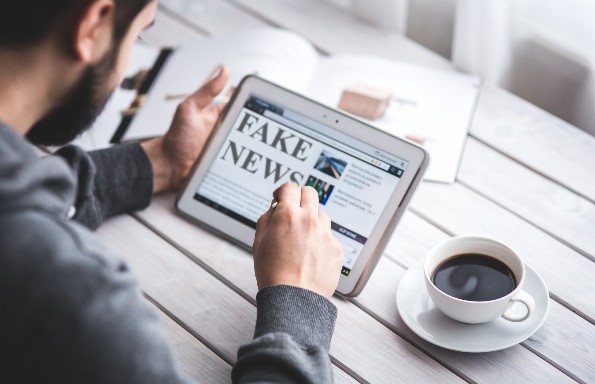 Social media is changing communication just as much as the dissemination of news. Radical positions that used to be voiced in the private sphere can now reach a worldwide audience. The research group "Multimodal Rhetoric in Online Media Communications" at the Center for Interdisciplinary Research (ZiF) at Bielefeld University will investigate how sub-communities and other interested parties create, manage and disseminate information across media platforms. The researchers will focus specifically on the role of language, images and videos in this process. The group starts today, May 18, with a virtual opening conference. The aim is to develop analysis tools that will allow us track the development and flow of different kinds of information, particularly false information, across media platforms.
Social media platforms often play a problematic role, especially in topics such as nationalism, populism and racism. False news and conspiracy theories can be disseminated more easily here than on classic channels, where news is checked and edited. News articles featured by the major platforms – enriched with images, videos and quotes taken out of context – can thus be changed into false news that, for example, fuel extremist views. "This is seen as an increasingly critical factor in interpreting and understanding the emergence and proliferation of alternative logics of social order and concepts of justice, morality and social obligations," explain the convenors of the research group, the communication and media scientist Professor Kay O'Halloran (University of Liverpool, UK), the multimodal semiotician Professor John A. Bateman (University of Bremen) and the computer scientist and cognitive scientist Professor Mehul Bhatt (University of Örebro, Sweden).
In order to understand exactly how these processes of reinterpretation and radicalisation work, the international and interdisciplinary team of researchers is following how news published in the major news portals is received, enriched and modified on the social media platforms. "Up to now, such analyses have been primarily language-centered", say the conveners of the research group. "There is a lack of theoretically well-founded methods for addressing those socially relevant meanings that emerge from juxtapositions of visual messages, such as images and videos." To this end, the researchers want to develop computational tools based on multimodal discourse analysis, sociopolitical models of rhetorical effects, and computational deep semantic processing of language, images and their combinations: "With this we hope to make possible a detailed discourse-based tracking of news and their reinterpretations."
Due to the current situation, the researchers cannot meet as a research group at the ZiF in Bielefeld for the time being. The opening conference will take place nevertheless. From 18-20 May 2020 and 25-27 May 2020 there will be an online session every afternoon at European time, where topics such as the possibilities of multimodal analysis, the necessary database, and the technical infrastructure will be discussed. Obviously, a conference cannot simply be moved to digital meetings. The group is therefore also working on finding a good, practicable format for virtual collaboration in the first instance.
Further Information
The website of the research group:
https://www.uni-bielefeld.de/ZiF/FG/2020Multimodal
Contact
Kay O'Halloran, research group convener
University of Liverpool
telephone: +44 (0)151 795 1177
E-mail: kay.ohalloran@liverpool.ac.uk