The Challenge
Brutalism is an architectural style of the 1960s-70s that has long been misunderstood, hated, and threatened with demolition. Its plight has been paralleled to the threat of extinction that Victorian architecture had faced in the 1950s-60s. It largely comprises large concrete buildings that have often been dismissed as "ugly", "crude", "cheap" and "inhuman".
Preston Bus Station is a key example of Brutalism that had been under threat of demolition for over a decade. It had been twice turned down for listing by the Secretary of State at the Department for Culture, Media and Sport, despite the firm support of the heritage sector and a number of grassroots initiatives.
Research Action
Dr Malathouni's research established the pioneering use of Glass Reinforced Polyester (GRP) in the design and construction of Preston Bus Station, which had been previously overlooked.
Dr Calder's investigates high-profile and ordinary concrete buildings from the 1960s-70s and establishes their design and construction processes, their subsequent histories and the heritage debates around them.
Working in partnerships
The two academic researchers have worked closely with professional and lay stakeholders, including: the Twentieth Century Society (the National Amenity Society specialising in post-1914 buildings); the "Save Preston Bus Station" campaign; the National Theatre; the Royal College of Physicians; Open House London; and the London Festival of Architecture.
Outputs and outcomes
Christina Malathouni, "Listing application for: Central Bus Station and Car Park, Tithebarn Road, Preston, Lancashire" (27 December 2012) [Report to public body (Historic England)]
Barnabas Calder, "'The sweetest music you will ever hear': structural and programmatic uses of concrete by Denys Lasdun & Partners," The Journal of Architecture (2015)
Barnabas Calder, Raw Concrete: The Beauty of Brutalism (William Heinemann, 2016)
Christina Malathouni and Janet Durkin, "Preston Bus Station: Architectural History, Politics and Democracy in a Post-World War II Designation Saga," Fabrications: The Journal of the Society of Architectural Historians Australia and New Zealand (2018)
The listing case for Preston Bus Station was re-opened within less than two years from the previous listing assessment; at least five years is normal between successive listing assessments
Preston Bus Station was listed at Grade II (23 September 2013)
"Save Preston Bus Station" campaign won a Heritage [Alliance] Heroes Award (2014)
International RIBA competition for Preston Bus Station refurbishment (2015)
Reviews in non-academic outlets acknowledged the broad reach of Dr Calder's book beyond academic and specialist circles
Invited contributions by Dr Calder and Dr Malathouni to other campaigns to protect post-war architectural heritage
Preston Bus Station refurbishment won: RIBA North West Award 2019, RIBA North West Conservation Award 2019, RIBA North West Client of the Year 2019, RIBA National Award 2019, and RTPI Regional Award for Planning Excellence 2019 (Culture and Heritage)
One-day cross-sector conference: #BrutalismNow (University of Liverpool in London, 11 October 2019)
Numerous articles discussing the listing case, and refurbishment, of Preston Bus Station in the national, local and architectural press, as well as several broadcast programmes
Numerous invited talks, building tours, and media presence by Dr Calder
Ongoing work relating to post-war architectural heritage and conservation and raising awareness internationally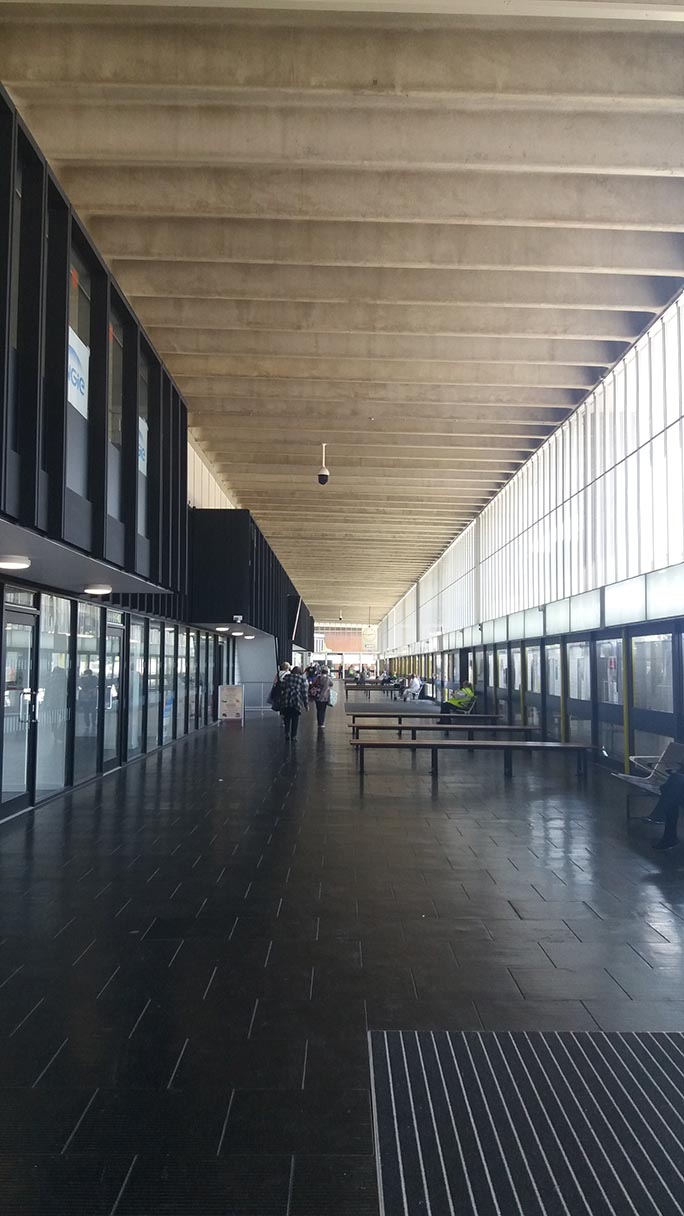 Back to: School of Architecture