The Challenge
The British government, through the UK Carbon Plan, made a long-term commitment towards a substantial decarbonisation of Britain. The aim is to reduce the UK's greenhouse gas emissions to zero by 2050. This challenging target is of critical relevance to the built environment. Buildings are responsible for 37% of the total greenhouse emissions in the UK, being higher than any other user. The provision of a comfortable internal environment depends on heating, cooling and lighting, which are the three largest uses of energy in buildings, and therefore, decarbonising space heating, cooling and lighting is one of the biggest challenges for carbon budgets. Furthermore, most of the energy supplied to lighting and heating/cooling systems is still generated from burning fossil fuels (50% and 84% respectively). Low carbon construction is a crucial part of any developmental programme in the construction industry, which was forecast to grow at an annual rate of 22.8%. By 2050, all buildings will need to have an emissions footprint close to zero, which means that they will need to become better thermally treated and illuminated, use more energy-efficient products and obtain their power from renewable sources. Therefore, the investigation of façade systems that can improve efficiency in more than one type of performance plays an essential role in the current quest to achieve zero-carbon buildings.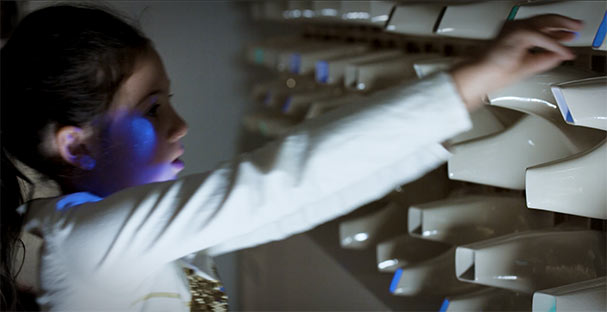 Research Action
After 10 years designing and assessing environmental control technologies for buildings, Dr Rosa Urbano Gutiérrez founded ECAlab in 2011 to investigate and develop energy efficient, low resource intensive architectural surfaces. ECAlab offers a low carbon construction alternative by providing building components that:
- optimise the collection and distribution of daylight inside buildings, minimising the need for artificial lighting;
- optimise the thermal capacity of the building envelope (fabric), reducing the need for space heating and cooling;
- use ceramics as a low-impact, versatile, non-toxic, totally recyclable, abundant, durable, and highly accessible building material: the embodied energy of a simple ceramic tile is around 6.5 MJ per tile, whereas aluminium, a typical material used in the production of façade technologies, has an embodied energy of around 218 MJ/kg.
- use material properties of ceramics not measured before to inform and optimise the design process;
- use the most advanced software and hardware in industrial design processes: environmental simulation, digital fabrication, rapid prototyping;
- and explore how the universal and optimised engineered component produced in this scientific environment can be appropriated and further developed locally, benefitting from and supporting heritage, traditional techniques and local identity, recognising the indispensable involvement of art and craftsmanship in the production process.
Working in Partnerships
ECAlab is part of an International Network of Ceramic Tiles Studies Departments sponsored by the Spanish Association of Ceramic Tile Manufacturers, with research groups in Harvard University (USA), Darmstadt University (Germany), several universities and research institutes in Spain. It also formed a collaborative framework within the UK, including Leeds Beckett University, Liverpool Hope University, Glyndwr University, with input from industry and professional practices of engineers/architects. ECAlab organized 3 major events in collaboration with 3 British world-class institutions: RIBA (Royal Institute of British Architects), TATE and The Building Centre.
Dr Gutiérrez's research programmes have involved 160 students, produced 85 innovative designs and 46 prototypes.
Outputs and Outcomes
Major impact scenarios of our research include:
-Environmental impact: reduction in energy demands for building systems in all stages of the life cycle; greater opportunity for recycling of materials; improved daylighting and thermal comfort; improved health and wellbeing of interior occupants and city inhabitants; and transformed construction sites, for faster, safer, healthier and efficient environments.
- Innovation and design: alternative design options and methodologies for architects and engineers and the shaping of cities; potential for SMEs to develop, grow and take the lead in this emerging field; and opportunity for the construction industry to embrace clean growth, new processes and products, and digital development.
- Impact on public, architectural profession, industry and education: ECAlab has developed new materials in collaboration with architects, artists and industry, and is inspiring ceramicists to work in different ways. The exhibitions with their programme of events were seen by over 65,000 visitors so far. The events developed an understanding in industry and architectural profession of the potential futures for architectural ceramics. All the public activities, lectures and symposia events were filmed with open access. These films were embedded into the UG and PG teaching curriculum at some university courses.
Daylight control and performance in office buildings using a novel ceramic louvre system Urbano, R., Du, J., Ferreira, N., Ferrero, A., & Sharples, S. (2019). Building and Environment. doi:10.1016/j.buildenv.2019.01.030.
PlatFORM [exhibition] (co-curated with Amanda Wanner and Dr Eduardo Coutinho, developed in collaboration with sound 3 artists]. TATE Liverpool, 1st Floor TATE Gallery, Liverpool, 21.10.2018-30.10.2018. Programme of events: 9 curator tours, 2 curator tours for primary schools, 11 lectures, 2 live performances, 4 tailored workshops for children with special needs and the Constructive Dialogues: Spanish Ceramics Innovations in Context Symposium. PlatFORM was also part of the Open Circuit Festival 2019 (11 February-17 May 2019), held at the Gordon Stephenson Building, University of Liverpool and after that the exhibition travelled to The Building Centre in London to be part of Hand Held to Super Scale: Building with Ceramics [collective exhibition curated by The Building Centre], 20.09.2019-8.02.2020. Programme of events: Ceramic Narratives in Architectural Practice, Research and Education Symposium. Outputs: 3 sound interacting ceramic surfaces and 3 films.
Cerámica [exhibition] (co-curated with Amanda Wanner, developed in collaboration with 16 artists). Gallery One, RIBA North, National Architecture Centre, Liverpool. 28.10.2017-03.03.2018. Programme of events: 11 artists lectures, 6 curator tours, 10 clay-play workshops for children, and the Moulding Futures: Collaborative Explorations in Ceramics for Architecture Symposium. Outputs: 15 full-scale ceramic prototypes, 15 1:2 scale ceramic prototypes, and 15 films.
Low Carbon Daylighting Design: Proposal of an Innovative Daylighting Ceramic Facade System. Urbano Gutiérrez, R., & Triantafyllidou, E. (2017). In Passive and Low Energy Architecture. Edinburgh.
Innovations in the production of ceramic luminous environments: where craftsman meets computer. Urbano Gutierrez R., and Wanner A. (2016). Informes de la Construcción, "Ceramic Innovations" Special Issue 68(544), 103-116. doi:10.3989/IC-15-167-M15.
Illuminating Through Ceramics. Urbano Gutiérrez R. (2013). Liverpool: Liverpool School of Architecture. ISBN 978-0-9557884-6-8.
ECAlab: Moulding Futures 2011-2018. Film (2017) (11 minutes 34 seconds) directed by Monika Koeck, Cinetecture. Transmission (1) RIBA North 26.10.2017 - 03.03.18. Transmission (2) TATE Liverpool 21.09.2018-30.10.2018. Transmission (3) Open Circuit Festival, University of Liverpool 11.02.2019-17.05.2019. Available publicly with open access at http://www.ecalab.org/moulding-futures/. This film illustrates the works, methodologies and concepts of ECAlab, includes interviews with key stakeholders, and was nominated for best film in the category "Reshaping the Economy" of the 2018 tve Global Sustainability Film Awards at BAFTA, London. Three films were selected in this category as runner ups for the prestigious award, being this work considered alongside that of much larger companies such as the BBC (Blue Planet), HSBC and Volvo.
Moulding Futures Symposium Film (08.12.2017) (7 hours), Constructive Dialogues Symposium Film (29.09.2018) (7 hours) and Ceramic Narratives Symposium Film (4 hours), edited by Monika Koeck, Cinetecture.
Open access at https://www.ecalab.org/mouldingfuturessymposium/, http://www.ecalab.org/constructive-dialogues/ and http://www.ecalab.org/ceramicnarratives/
Back to: School of Architecture