When Jaimie Platt completed her doctoral thesis in Nuclear Physics last year, she was one of more than 600 students who, over the past thirty years, has been a beneficiary of a John Lennon Memorial Scholarship. The scholarship was established in 1991 by Yoko Ono Lennon (Hon LLD 2001) in memory of her husband to support students from Merseyside in financial need and who raise awareness of global and environmental issues as part of their studies.
In August last year, in recognition of Yoko's long-standing philanthropic support, the University announced its new state-of-the-art teaching and performance space, home to the Tung Auditorium, will be named the Yoko Ono Lennon Centre.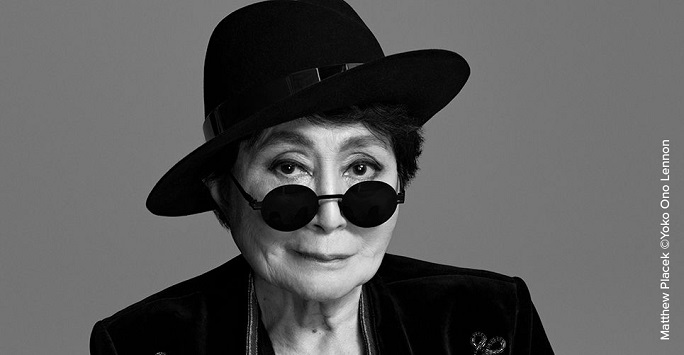 Yoko said: "I am thrilled to be recognised with the naming of the new performance centre at the University of Liverpool. Thank you to the University and to the people of Liverpool for this wonderful honour." As well as bearing her name, the Centre, which will open later this year, will seek to celebrate the artistic vision and cultural significance of Yoko Ono Lennon.
As a world-renowned artist, musician and peace activist, Yoko's name is indelibly woven into the cultural history of the city through her relationship with John, but also through her continued support and championing of Liverpool and its cultural heritage, which began soon after she met John Lennon in 1966.
Yoko remembers her first trip to Liverpool with fondness. "The first time I travelled to Liverpool was in 1967 to do a performance at the Bluecoat. Liverpool was beautiful to my eyes. It had a kind of poetry, style and vigour that I loved. It was also the first place John took me to after we got together. He was proud of the city he was born and grew up in. Liverpool has become part of me by years of going there, and with this new centre part of me will always be there – for that I'm very thankful. I think John is smiling about it too."
The Director of Culture Liverpool, Claire McColgan MBE, acknowledges that Yoko has "embraced [the city's] role in John's life" and displayed "a love and affection" for Liverpool that is now being acknowledged by the naming of the building after her.
A cultural icon
A key figure in both the Fluxus and conceptual art movements of the 1960s and 1970s, Yoko's first performance in Liverpool was the world premiere of The Fog Machine to a sold-out audience during her Music of the Mind concert. (pictured below) (Photo: Sheridon Davies)
In recent years, Yoko's notable works have included her 2004 exhibition My Mummy Was Beautiful at the Liverpool Biennial, and her 2008 unveiling of Sky Ladders in the ruins of St Luke's, the Bombed Out Church.
Yoko has also been instrumental in preserving the legacy of her late husband: helping the National Trust acquire John's childhood house on Menlove Avenue; supporting and donating to John's old primary school Dovedale; and supporting the naming of Liverpool John Lennon Airport. Most recently, she collaborated with the Museum of Liverpool in 2018/19 on the exhibition Double Fantasy – John & Yoko, for which she gave access to her extensive and personal archive.
"It's such a fantastic and bold decision for the University to put Yoko's name on and dedicate the centre to her," says University of Liverpool Lecturer and Beatles expert, Dr Holly Tessler. "When she and John performed, they used their voices to activate political change and advocate for the causes they believed in, something the University very much encourages in its students, staff and the University community as a whole."
So what will the centre deliver?
The new Artistic Director for the Tung Auditorium, Richard Hartwell (pictured below), is tasked with developing the vision and ambitious programme for the new space.
"This concert hall will be a phenomenal addition to the University campus and will naturally fulfil a number of roles," explains Richard. "With the Paul Brett Lecture Theatre, it will be a space for teaching and learning, central to the delivery of the Music Department's programmes. It will also become a cultural hub for all students on campus as it will host rehearsals, masterclasses and talks. However, my ambition, which is shared with colleagues, is to simultaneously operate a public venue which delivers a similar level of customer experience to other prestigious concert halls in the region.
"The Tung will deliver a remarkable audience experience for classical chamber music. However, the ingenuity of design means that the acoustics can be adjusted to accommodate larger groups, with and without amplification. A well-rounded programme for me would include traditional and contemporary classical music, jazz, folk, singer-songwriters, electronica and spoken word events. Many performances will involve students, but equally we would look to present high-profile visiting artists and local ensembles in a varied programme to attract a range of audiences."
The new space will champion diversity and in doing so embrace the legacy of its namesake, as well as becoming an important destination for audiences.
Richard continues: "What's great about this building is that it fills a niche in the city's musical ecology. There are many wonderful and culturally significant venues in Liverpool with long histories, but there is nothing else in the region of this particular size, that will deliver this experience. I would be looking to complement rather than compete with other venues and arts organisations to present a city-wide offering that benefits students, local audiences and hopefully people new to the city, too."
As well as a cultural programme, ideas being discussed for the Centre include a peace garden and the installation of a Wish Tree – a continuation of an art piece Yoko established in 1996 and which culminated in the collection of all the wishes – currently totalling over 1 million. They are preserved and continue on in connection with the Wishing Well of the IMAGINE PEACE TOWER in Iceland.
To date, the fundraising campaign has raised £2.71m against its £3m target, with £290,000 left to raise. As Richard acknowledges: "In my experience, it would be impossible to create and sustain this sort of specialist facility without the incredible generosity of supporters. These include our Campaign Ambassadors – Professor Averil Mansfield CBE, Dame Patricia Routledge DBE, Dr Joan Rodgers CBE, Professor Shirley Thompson OBE, Vanessa Reed, Robin Bloxsidge and Nick Riddle – whose support has been crucial in helping deliver this project. High specification concert halls are not just big rooms with seats in them – everything is designed with the acoustics in mind and this complexity cannot be achieved without the right financial support providing an investment for decades of students, performers and audiences."
A final word from Yoko
"Today, it gives me great pleasure to know that this centre will serve as a new opportunity for countless future artists and musicians to communicate their work with the local audience in Liverpool, and the world beyond. I can't wait to see what exciting new work is on its way."
Liverpool was beautiful to my eyes. It had a kind of poetry, style and vigour that I loved. It was also the first place John took me to after we got together. He was proud of the city he was born and grew up in. Liverpool has become part of me by years of going there, and with this new centre part of me will always be there – for that I'm very thankful. I think John is smiling about it too.

Yoko Ono Lennon